US Politics Is Just A Distraction (#1)
Regardless of who's President, greater socioeconomic trends are at play
Every Sunday I publish a newsletter featuring the best hacks and insights I discover on my journey as an entrepreneur and investor.
---
This week, we were blessed with an epic season finale to my favourite reality TV show. Joe Biden, our 78-year-old hero, conquers his arch-nemesis, Donald Trump, to take his rightful place in the Oval Office. In doing so, he restores western democratic values, rejoins the Paris Climate Agreement, refreshes the country's covid response, and refuels the economy with a $1.9tn stimulus bill… and so, we live happily ever after.
Adding to the drama, in the previous episode, Trump's juicy second impeachment accompanies the already exhaustive menu of western democratic institutional failures - Brexit fuck-ups, vaccine mismanagement and general handling of the most serious global pandemic in 100 years. Despite our hero's recent victory, this paints quite a bleak picture for both his and our own future. One can only imagine the new obstacles he will come across…
Sitting from my high perch in London, alongside fellow technocratic libertarians, I can't help but wonder whether this is all a distraction from the more fascinating and socioeconomically significant trend towards distributed teams and autonomous, remote organisations. And, if this is the case, to what extent are these trends technology-fuelled rather than policy-fuelled?
---
I'd love to hear from you
Hit me back and let me know - what do you think? You can reach me on Twitter or email: anthony@djangodigital.co.uk.
---
Nomad News This Week
🌐 Omnipresent raises a $15.8M Series A for its platform to employ remote-workers globally.
🇬🇷 Greece and Volkswagen agreed on a JV to transform Astypalaia into a zero-carbon climate-friendly community - opening the door for digital nomads to relocate. You won't be surprised to hear, Anthony Theocharis and Costas Hadjipateras (two school friends) are lobbying me to make this my next nomad destination.
---
What I Read This Week
🔮 Any Human Heart by William Boyd. 5/5. Written as a series of intimate journal entries, this book packs a heavy punch of depth and character. Our protagonist travels from Uruguay to London, Paris, New York, Spain, Nigeria, Reykjavik, the Bahamas, and more… If you know your favourite vintage of Châteauneuf du Pape, this is perhaps the perfect book for you. Grab my full book notes on my website.
---
My Favourite Podcast This Week
🏛️ Exponent Discusses Facebook, Twitter, and Trump. A very timely podcast that helped me think about the measures western democracies must have in place to ensure democratic processes are upheld. Specifically, in this case, whether the responsibility to de-platform Trump should fall to Big Tech if Congress was to fail in impeaching him.
---
What I Learnt This Week
🤓 How To Build A Complete Marketing Funnel (YouTube walkthrough). I'd highly recommend this to anyone interested in learning the fundamental principles of eCommerce, sales funnels and online business.
---
What I Hacked This Week
🤑 I launched my first end-to-end automated sales funnel, selling instrumental music to rappers, and posted a YouTube video showing you exactly how I built it.
---
A New App I Downloaded This Week
📱 Clubhouse. Supposedly the next big thing in social media… live, interactive podcasts. After a few minutes, I found myself in a room with none other than Eric Weinstein… and also some other interesting rooms...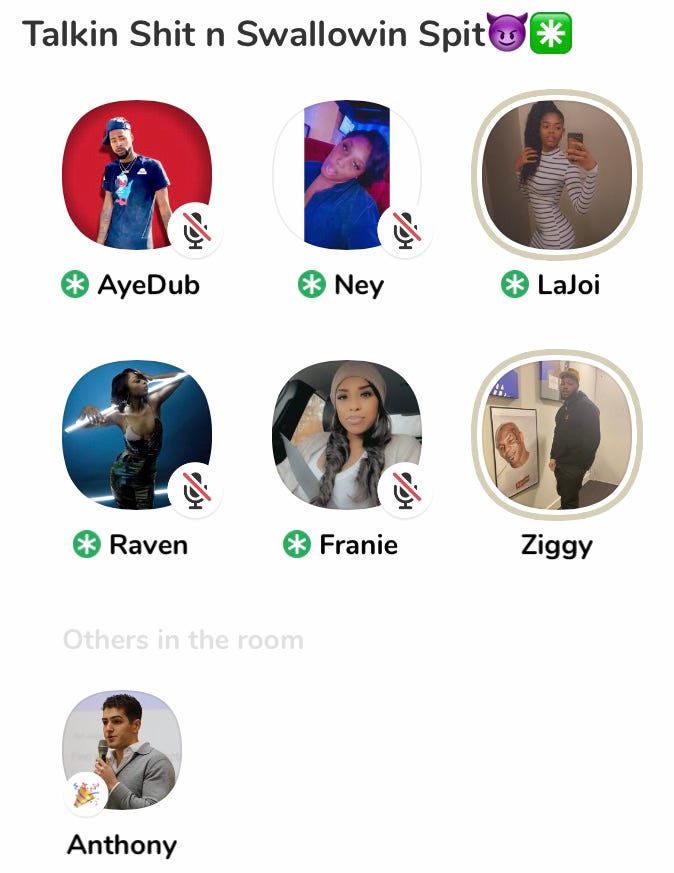 ---
🐦 Excerpts From The Twitterverse
---
Thank you so much for reading this article. If you enjoyed it, be sure to share it with your friends and spread the word.
I want to be able to deliver the best content I can to all of you. To that end, I'd love to hear your thoughts on what's working, what isn't, and what you'd like more of. You can reach me on Twitter or email: anthony@djangodigital.co.uk.
Cheers,
Anthony